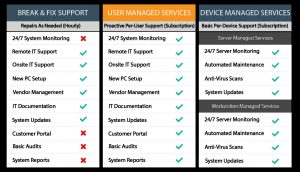 As you are interviewing providers to provide your business with managed IT services it is crucial that you know what you need and exactly what services you are looking for.  Below we will provide you with some tips you should keep in mind while you are interviewing companies to become your new managed IT services.
In business, no matter if you are growing or happy where you are currently at, your IT infrastructure is crucial.  Many small business owners try to manage their IT services without hiring an outside source.  However, as they grow, they find that their IT service needs become more than they can manage on their own.  This is where companies such as Creative Programs and Systems, CPS, can help.  Managed IT services leverage the use of technology to increase efficiency throughout your organization.
Managed IT providers, MSP, is a company that is an outsourced provider of set IT tasks for your business.   Many MSP providers are seen as your company's "internal" IT team as most are available to provide services to you 24/7, after business hours may be considered emergency only.  A major benefit of MSP providers is that they become part of your company without the overhead and extra staff.
Important Features of Your Managed Services Provider
IT Support When You Need It – 24/7/365
One detail that many IT service contracts include is availability.  Although most MSP providers offer services round the clock it is common that services provided outside of what is agreed upon as normal business hours is done at an additional premium.  The point being that they are available when you need them.  Catastrophes don't always occur during "regular" business hours.  It is important that even though your IT company isn't open 24/7/365, they are available when and if you need them.
Backups and Data Recovery
It is crucial that your service provider has in place specific procedures for backups and data recovery.   Most companies don't know the benefits of an IT provider until an actual catastrophe occurs.  When a data failure occurs, and you are required to restore your company information based on the backups that are in place is probably not the time to learn the company you hired is subpar.
Maintenance and Preemptive Support
Not only is the purpose of hiring an MSP about having support when a problem occurs, it is about being proactive and preventing issues before they occur.  IT support providers need to be able to not only monitor the existing IT infrastructure they should also derail potential problems before they occur.
Hire an MSP Provider That Understands Your Company
Every business is unique and therefore needs special attention paid to their unique needs.  Find a provider that wants to learn about your company in detail.  In order to provide your business with a successful IT solution and suggest strategies to grow your company they must understand your companies wants and needs.
Creative Programs and Systems, CPS, is an all-inclusive IT solutions company offering a variety of services including: managed IT services, IT consulting, residential computer services, custom programming, website design, iphone & android app development, and more.  More information can be found at https://cpsmi.com.