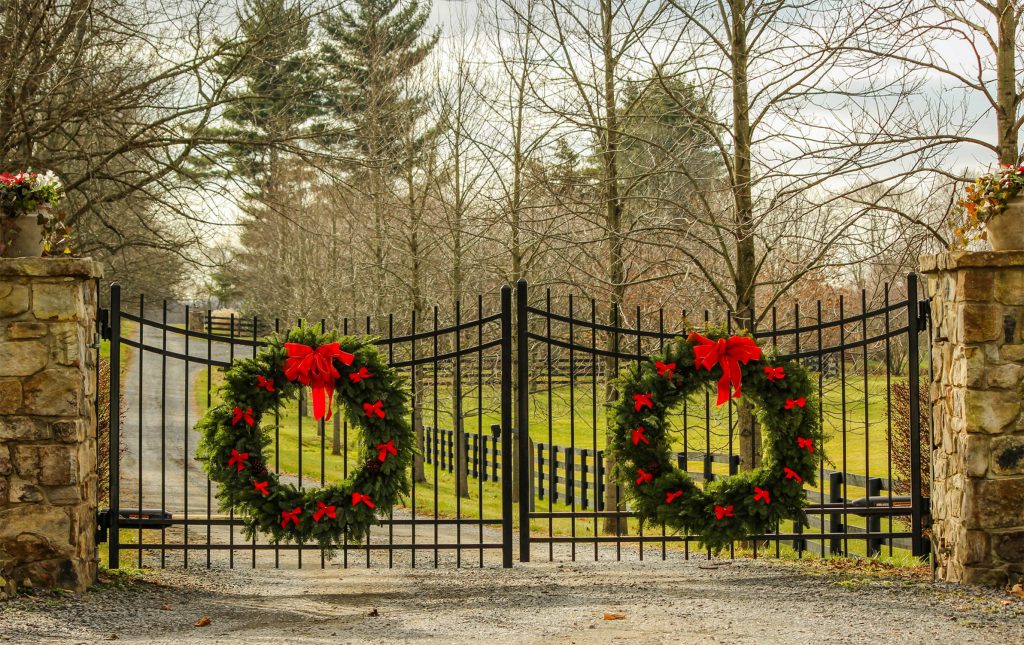 From walkways to driveways, a gate can transform the entire look of the landscape while adding a layer of security. Aluminum estate gates alter the aesthetics of your home. With curb appeal being an important factor in the way your home is viewed by outsiders, enhancements that not only add beauty but also security can make a big difference.
Driveway gates are commonly installed either to large columns on either side of the drive or to heavy duty aluminum posts that are purchased in conjunction with the gate. Driveway gates can be installed together or separate of perimeter fencing. The design is truly customizable to that of what each individual user desires. For some homeowners, their property is lined with wooded acreage that makes a fence unnecessary where as others have wide open yards that they are looking to completely secure. Before ordering it is important to have a general understanding of what you hope to accomplish with the installation of an estate driveway gate.
Small Estate Gates
Not all entry gates are grand in scale. An aluminum entry gate that compliments your home and space is what is most important. Some entryways are small in scale and a large driveway gate may be aesthetically overwhelming. Choose an entry gate that fits your space. The gate should first and foremost be realistic for your situation and needs.
There are a variety of options to choose from at iFenceUSA for even the smallest of driveways. Although for most smaller driveways a single gate is ideal, some homeowners desire the look and function of a double gate. It is important that once the gate is installed it is functional and that vehicles of all sizes can still access the home. Remember that large delivery trucks will still need to make their way up your drive on occasion. The goal is not to make your small driveway smaller with the installation of a gate but to enhance and secure the existing space.
Extra Wide Estate Gates
What happens when you have the opposite issue and your driveway is extra wide? Believe it or not iFenceUSA has an aluminum driveway gate that will fit any size or shape driveway or entrance that exists. Custom gates are our specialty and can come in any of the 18 styles we offer, with an arch, without an arch, with or without ornamental metal options, you name it and we can more often than not make it happen.
The most important factor when ordering a driveway gate, small or large, is to take proper measurements. There are a number of guides online at our website that will help you properly measure for the gate you desire. The first measurement that is needed is between the two stationary posts (or columns) that the new gate will be attached to. It is important not to include the measurement of the posts, only the space between the posts is needed.
The estate gate that you choose to install is totally dependent on the type of property you have, your exact need, and the image you hope to communicate. When it comes to designing a gate or fence for that matter, your options are endless with aluminum. The team at iFenceUSA can help you achieve a secure, eye-catching, operational aluminum entry gate for your driveway or walkway.
iFenceUSA is an online distributor of wholesale aluminum fences and gates for residential, resort, commercial, and industrial installation. As an industry leader in maintenance-free aluminum fencing products we have all your aluminum fence and gate needs covered. More information can be found online at https://ifenceusa.com/.