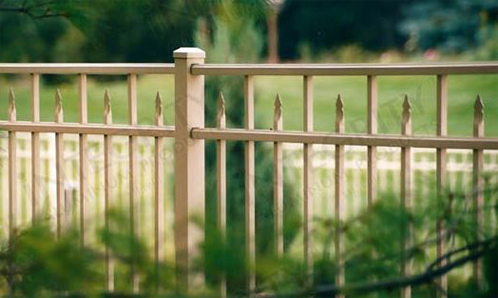 There are a number of fencing materials available when searching for a fence for your backyard. There is also a lot of information available to consumers online, much of which is useful however, as with any information gained online you want to make sure it is not based on internet myths. You don't want to make the wrong decision for your yard and landscape because you were swayed by information that is based on incorrect myths.
Common Myths About Aluminum Fencing
Myth: Aluminum Is Lightweight and Weak
Truth: Aluminum is as Strong as Wrought Iron and as Lightweight as Other Fencing Materials
A widely spread misconception about aluminum fencing is that it is weaker than other types of fencing, including steel and wrought iron. Consumers should not judge the strength of the fencing material based on the weight of the fence. This is an inaccurate representation. Aluminum is highly durable and also tends to be lighter in weight than wood, vinyl, and other fencing materials. The lightweight nature of aluminum is a bonus, not a negative.
Myth: Aluminum Fencing is Expensive
Truth: Aluminum Fencing is Affordable
Aluminum fencing is an affordable option. Often consumers only take into consideration the initial purchase of the fence panels however, it is important to consider the upkeep costs of fencing as well. The initial purchase of aluminum fence panels can be a little bit more expensive however there is absolutely no cost involved with maintenance unlike all other fence materials. Wood fence requires yearly staining which can add considerably to the cost of the fence.
Myth: Aluminum Needs to Be Replaced Sooner Than Other Types of Fence
Truth: Aluminum Fence Last for Decades
Aluminum fencing is in fact one of the longest lasting fence materials available on the market today. The powder coated finish on aluminum fence panels and gates is weather-resistant which ensures a long-lasting fence. Wooden fences tend to require more maintenance than aluminum and do not hold up well in harsh weather conditions.
Myth: Aluminum Fence Comes in Only Black and Is Plain
Truth: Aluminum Fencing Comes in a Variety of Colors and Ornamental Styles
There are a number of colors and decorative aluminum fence styles to choose from when working with a company like iFenceUSA. Consumers tend to picture basic, black aluminum fencing when considering options for their home however, this is far from where aluminum fence options end. There are a number of options that can be added to aluminum as well. It is in fact one of most customizable materials in fencing.
iFenceUSA is an online distributor of wholesale aluminum fences and gates for residential, resort, commercial, and industrial installation. As an industry leader in maintenance-free aluminum fencing products we have all your aluminum fence and gate needs covered. More information can be found online at https://ifenceusa.com/.