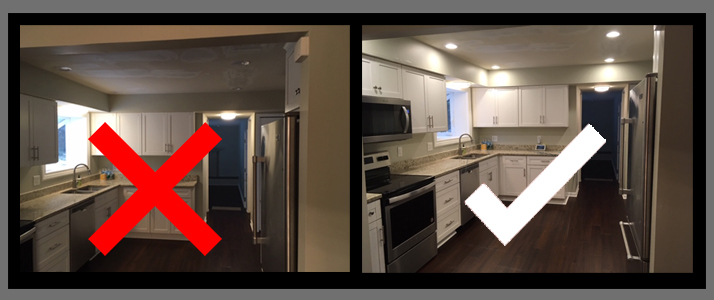 In order to bring your remodeling projects to a whole new level consider the lighting in the space. In order to truly understand how the lighting in a room can spice up any renovation it is important to know what types of lighting is available and the best ratio of light to use within the space. To help we have created a list of different lighting options available to choose from.
Options in Lighting
Lighting can be used in a number of ways.  More often than not layered lighting is the best option to really boost your rooms appeal. When
renovating the space
consider how the three options below work together to not only provide functionality but also style, and beauty.
Ambient Lighting:
General lighting is considered ambient lighting and is used to create overall illumination within your renovation. Ambient lighting is the lighting is the usable lighting in the space.  It provides the brightness that is needed in the room to proceed with the tasks that are done within the space.More often than not your renovations will include ambient lighting.  This includes lighting that comes from the ceiling from ceiling mounted lights, recessed lighting, track lights, and chandeliers.
Task Lighting:
As the name applies, task lighting is in place to make every day tasks easier.  Task lighting provides a small beam of targeted light for activities like working, cooking, reading, getting ready and more.  Some examples of task lighting are floor lamps, reading lamps, under-cabinet lighting, stove lighting and more.  Task lighting take away the imperfections such as glare and shadow.
Accent Lighting:
Much like you add a hat and scarf to your coat or earring to an outfit, accent lighting is used to add flair to your room. It adds a focal point within your room. Most accent lighting fixtures provide at least three more times the light then ambient light does.  If you have incredibly high ceilings and you want to accentuate the height add an accent light to the ceiling.  If you have a picture on the wall that you want to be the main focus of the room, try adding in sconces that project lighting on to the pieces.
Plan for Lighting in Your Renovation
As you are
planning for your remodel
clarify your goals for the space and how the lighting needs to be utilized in the space.  What will you be doing in the space?  If you are
renovating a kitchen
are you looking to do more than cook and eat? Often times extra lighting is needed above an island area to illuminate the space for working or studying. Consider adjustable lighting as well in areas like a dining room so that the mood of the room can be changed depending on the situation. Your lighting should also take into consideration the style of your renovation.  Modern lighting options don't fit in aesthetically with country chic.  When choosing lighting consider the different aspects of the
room remodel
you want to coordinate with. Next it is important to consider how much lighting you actually want and need.  What is the right amount of lighting to make your renovation usable as it is intended too?  Having too little lighting in a space may make the remodel useless which is the last thing you want for your new space.  Consider the size of the space.  A good calculation to make is that 40 lumens are needs per foot of room space.  A 600 square foot room would need 24,000 lumens, 600 square foot x 40. Build a plan for your room remodeling lighting elements that begins with a central source of ambient lighting.  You can build onto the lighting in the space from there.  Task lighting is usually the next element that
contractors
consider. Do you need some glare free work space above the counters to allow you to easily measure ingredients?  Do you need additional lighting over a kitchen island where you will be prepping meals or bake goods?  Lastly, choose one interesting feature in the renovation that you want to bring attention to.  Add in an accent feature to highlight the feature.  If you have had an amazing arched entry add you may want to include wall sconces that shine light upward on each side of the entry to highlight the arch. It is also important to choose the right type of light bulb for each type of
lighting feature
.  Will you be using all incandescent lights?  Do you prefer LED bulbs?  Are you okay with a combination of both?  Most ambient lighting will use incandescent light bulbs as they provide a warm glow.  LED lights are best used in task lighting where the brightness of the bulb helps to see what you are working on better. Glen Miller the Home Doctor is a licensed general contractor servicing Livingston County and the surrounding areas.  Glen offers a wide range of services including home maintenance plans, age in place remodeling, kitchen and bathroom remodeling, finished basements, and hardwood floor refinishing.  More information can be found online at
https://www.glenmillerthehomedoctor.com/